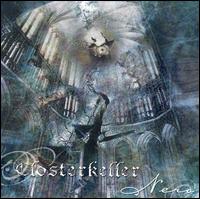 Vocals, Lyrics; Anja Orthodox
Keyboards; Michal Rollinger
Drums; Gerard Klawe
Guitar; Marcin Mental
Bass; Marcin Pluciennik
Track 10, lyrics by Krystian Aparta
1. Watching As You Drown
2. Fight Club
3. As I Glide
4. Like Rain Against Stone
5. Queen
6. He Comes When The Night Falls
7. Nero
8. Mirage
9. No Matter What Will Be
10. Amber
11. Sin
12. Have You Seen
Watching As You Drown
is an amazing opening track. The lyrics are beautiful and dark, they speak of loving being no more and have a sense of betrayal to them. Anja's accent really compliments this track and her vocal is really good. The music is more "bassy" and has strong elctronic overtones throughout. An amazing peice of music.
Fight Club
one of my favourites on the album. It talks about people being blind to the violence and keeping silent about it, it also covers an important social issue. The vocal is very thick and heavy but varies when Anja sings sweetly;
Gaurdian angels stand around deaf and blind
A mute wall of sorrow
Stony wings over their eys
Gaurdian angels stand around petrified
Sorry hearts all hushed
Stone tears running down
Overall this song proves Anja's talents both vocally and lyrically on the whole.
As I Glide
a long track with only a small quantity of lyrics. A well performed song. Dark and powerful.
Like Rain Against Stone
a very powerful song lyrically. This song tells of a ultimate betrayal and a love being stolen by what's considered to be a "more powerful and attractive" woman. The vocal on this track is thick and heavy which fits the dark atmospheric mood of the song perfectly.
Queen
my favourite from the album. Extremely "creepy" and atmospheric. The dark mood of the song is enchanting in many ways and Anja's vocal is clam until the chorus. In the chorus Anja plays to parts where she sings lines alternatly, the first in a high soprano voice the second in a brutal vampiric growl and so on throughout the whole chorus. My Favourite lyric from this song has to be;
You know so little when you're standing out there proud and mean
The Queen of silence here's the new me
The lyrics in this song are completely stunning, I adore this song.

He Comes When The Night Falls
one of my favourite from the album. A very fast paced and heavy song with a killer chorus. Anja's powerful voice comes once again into the song, the lyrics to well to accomodate the song.
Nero
the album's self-titled track. Nero is Italian for black, just like this song. It tells once again tales of an ultimate betrayal and the the effects, of heart-brokeness.
Mirage
a song about religious beliefs. The lyrics say that there's nothing more but still you hold out hope that god will have mercy upon your blackened soul. Anja sings this song perfectly, and although the music isn't as heavy as most of the other tracks it is still great.
No Matter What Will Be
a slow but heavy song. The lyric explains how there is little left, and although you can love someone so much as it's your very right, that that person doesn't have to love back.
Amber
a great job with the lyrics Kristian. The tale is of a girl who enters the woods seeking comfort, who's mind is then captive to nymphs. The girl finds the precious amber but is lost and trapped in the forest. A beautiful song on the whole.
Sin
the lyric tells of being alone and blessed with the darkest sins that you cannot wash away, thus not letting you forget. Amazing performance from all the band.
Have You Seen
a perfect closing track. About missing someone and wishing it was you who had left and not them. Anja and the band come together once more perfectly and make this one of the best on the album.
Overall this is my favourite Closterkeller album and it's very much evident that Anja's English pronounciation a improved. I believe this is a gothic metal masterpeice. 5/5