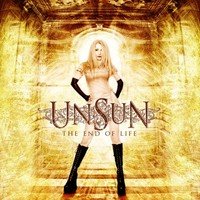 1 Whispers (3:31)
2 Lost Innocence (3:16)
3 Blinded By Hatred (3:31)
4 Face The Truth (5:03)
5 The Other Side (4:01)
6 Destiny (3:52)
7 Memories (3:48)
8 Bring Me To Heaven (4:43)
9 On The Edge (3:32)
10 Closer To Death (3:42)
11 Indifference (2:58)
UnSun is new polish band by Mauser (Vader), Heinrich (Vesania), Vaaver (Indukti) and cool singer Aya.
This is their debut, so there is lot of general mistakes, but they are allowed.
1. Whispers
Strong starter for an album. Aya's vocals sound pretty good in this one, and guitar side is great.
Its still not anything special, its regular song.
2. Lost Innocence
Starting with great synth noices, it makes good atmosphere, but that goes away the same second Aya starts to sing, its strange. Great feeling comes back when chorus starts, its pretty sweet.
Aya's voice sounds pretty childish in this song but its ok.
3. Blinded By Hatred
Starts with silent piano track, it turn into cool when the song really starts, with Aya's voice and great guitar track. Only thing that pisses of in this song, is the very boring chorus.
4. Face The Truth
Lovely ballad track. Aya sounds really good in this one. You know, you wont always understand what she is singing cuz of her bad accent, but still its kind ok for this girl and her pretty voice. Lovely ending in this song, with cool changes.
5. The Other Side
Starts with guitar part that makes one of the first metal feels on this album.
Again, it kind of bores when Aya starts to sing, she sounds very childish again
Lovely chorus again, UnSun really seems to know how to make cool choruses at least
6. Destiny
Kind of strange track. Its not metal, its not rock, its not pop,, so what is it?
Beginning sounds more like some Evanescence song, not like metal as they call them self.
Chorus saves the song again, its still one of the biggest suckers on this album
7. Memories
Most beautiful song on this album. Our dear childish sounding Aya does very great work on this track. Its really freshy track, makes you feel good.
8. Bring Me To Heaven
Horrible pop intro makes you think all the wrong 'bout this song.
It turns amazing when Aya starts to sing, she rules again , this time sweet slow voice. Sweet chorus, again. Almost too sweet.
9. On The Edge
Omg, metally intro! Love it!
Aya sounds strange on beginning of the song, not like herself.
This is extremely poppy song, sad when you think bout the intro.
Really sucky song in the end.
10. Closer To Death
Love this track, starts with easy relaxing guitar rif, pretty.
Strange song, since it changes like 100% after the intro, its sad
Cool chorus, really different than the ones before, Aya sounds lovely.
11. Indifference
End Of Life, no end of album.
Cool song, with poppiest intro ever in metal song!
Short song, not very impressing. Hate beeb at ending.
____________
Vocals 7
Music 8
Songs 7
Mixing 6
Total 7